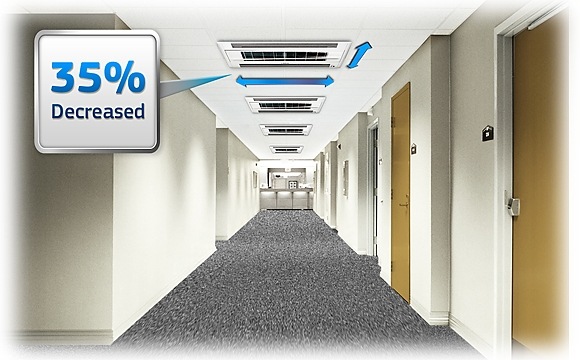 Ideal for Long and Narrow Places
Where the interior is valuable, 2 Way Cassette is the ideal solution, especially for long, narrow spaces such as halls and corridors. This unit, which is 45 percent smaller than previous units and takes up 30 percent less space than the 4 Way cassette type, easily integrates with existing or planned building designs. As a result of its convenient placement on the standard ceiling grids, a quiet air conditioning system is created that provides maximum performance while providing minimum visual impact on the decor.
Automatic All-Around Swing Oscillation
The innovative Twin Cross Flow Fan distributes more cold and hot air with minimum noise. This efficient system fits any size room, so no corners are overlooked.